AL Habib Platinum Debit Card
Your Financial
Passport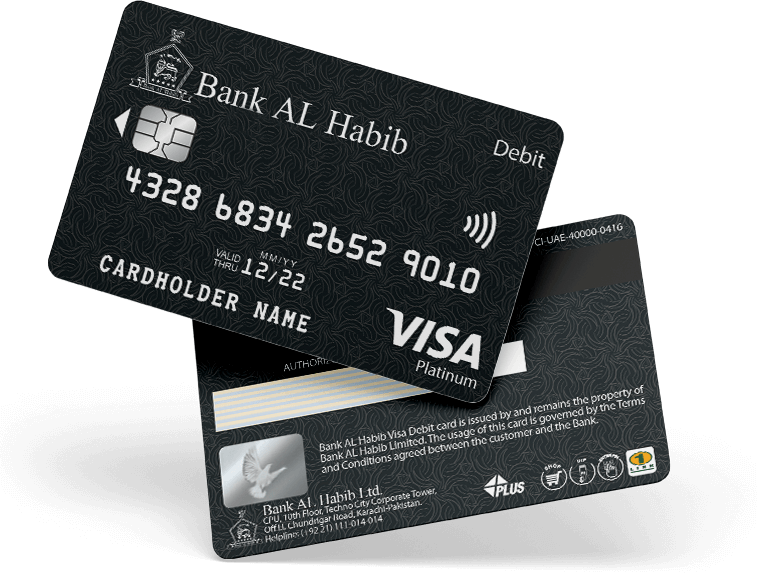 Experience a new world of premium benefits
Step up with the Bank AL Habib Platinum Debit Card in the world of top services and luxuries catered to meet your lifestyle.
With higher limits, special discounts and added protection on your transactions, avail services and benefits tailored to meet your expectations.
Bank AL Habib Platinum Debit Card is linked with the global Visa network, allowing you to access your account from over 24 million merchants and 1.7 million ATMs around the globe including all 1LINK ATMs and POS terminals across Pakistan. Get instant access to your Bank account, 24 hours a day, and 7 days a week.
Avail Exclusive Discounts
Your Bank AL Habib Platinum Debit Card gives you access to premium discounts exclusively.
View Discounts
Avail world-class international Visa services and privileges you truly deserve.
Purchase Protection
When paying with your Platinum Debit Card, you will benefit from Purchase Protection for stolen or damaged goods purchased.
Extended Warranty
Items purchased on your Debit Card may be eligible for the benefit of Extended Warranty.
Local offers by VISA
Discounts at restaurants and outlets
Airport Dining Program with access to
200+
Restaurant Offers Globally
Global Customer Assistance Service (GCAS)
In case of a lost card, Visa may be able to block your account, send a replacement card and provide emergency cash.
Airport Dining Offers
Visa has partnered with DragonPass to exclusively offer an airport dining discount program for Visa Platinum Cardholders. Cardholders must first register for the app. Once registered, Cardholders can search for restaurants in airports they are travelling to or from.
App Name: 'DragonPass Dine & Travel'
restaurants globally, made up of key locations in different markets and travel corridors
Discounts vary by location, and are visible in the mobile app
Jumeirah Hotel Offers
Platinum Cardholders can enjoy exclusive savings on stays at Jumeirah properties, including
Madinat Jumeirah
Jumeirah Royal Saray
Jumeirah Messilah Beach Hotel
Jumeirah Port Soller Hotel & Spa
Jumeirah Frankfurt
Jumeirah Lowndes Hotel
Grosvenor House Suites by Jumeirah Living
Capri Palace Jumeirah
Medical & Travel Assistance
Platinum Cardholders can travel the world safe in the knowledge that they always have access to the help they need.
Telephone medical advice
Medical service provider referral
Monitoring medical condition pre & post hospitalization
Essential medicine and equipment delivery
Dispatch of physician to Cardholder location
Medical evaluation and repatriation
Legal referral
Interpreter referral
Visa Explore App
The Visa Explore app is the perfect companion for the Visa Platinum Cardholder - making it quick and easy to access a bundle of benefits and offers. Each offer is conveniently geo - tagged and segmented, allowing Cardholders to find exactly what they want, when they want, wherever they are. Offers can also be browsed by location and category.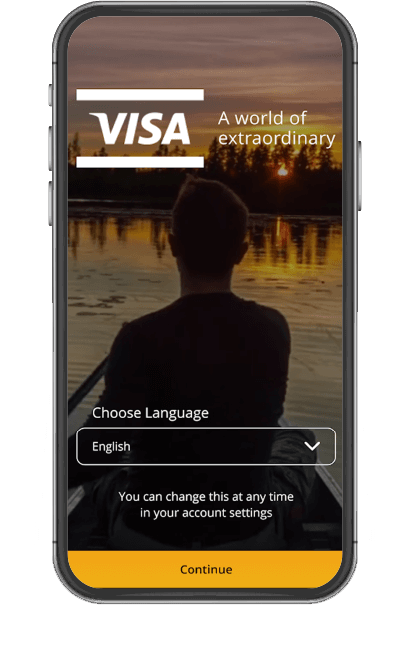 Visa Website
The Visa website at www.visamiddleeast.com is a one-stop-shop that connects Visa Platinum Cardholders with a wide range of exclusive offers, experiences and resources.
With swift and convenient navigation, the website acts as a repository for:
Visa Platinum benefits including full-service descriptions and contact details to avail travel benefits, card protection services, support and resources.
A constantly updated array of the latest Visa Platinum offers, privileges and indulgences, all selected from the most discerning cardholders.